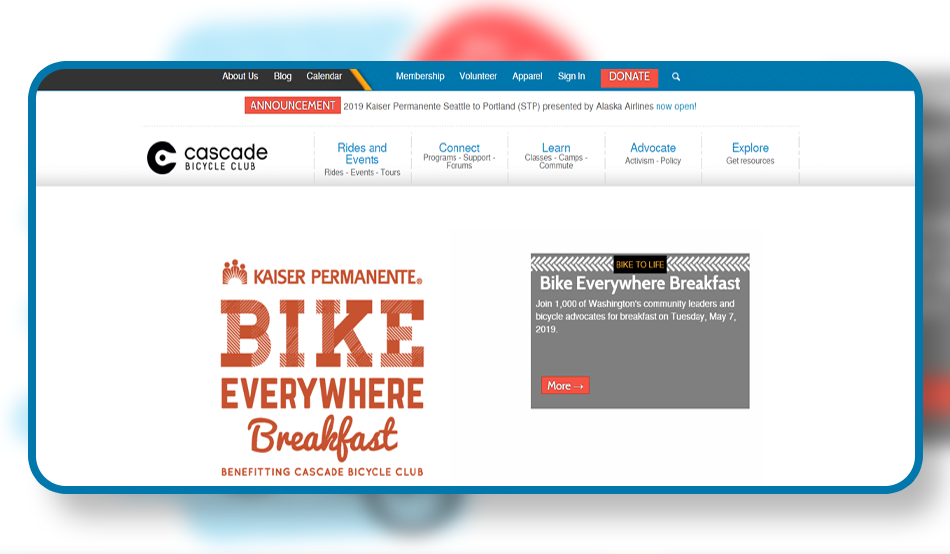 Background
Formed by brothers Mike and Rick Quam way back in 1970, Cascade Bicycle Club is a statewide bicycle nonprofit organization that serves bike riders of all abilities and ages throughout Washington state. It was founded to organize recreational group rides and promote the development of bicycle trails in the state. The organization is continually carrying out its mission to improve lives through bicycling, teaching the joys of such sport, promoting places where individuals can ride safely, and hosting ride events.
Cascade Bicycle Club offers riding classes to all ages and skill levels. From bike-handling to urban cycling techniques, participants can learn how to fix a flat tire, adjust drivetrain and shifting system, and identify minor problems for maintenance through their adult education classes.
The organization also hosts world-class rides and events for those who ride bikes for fun, want to keep their bodies fit, and meet new people.
Rationale
Being the largest bicycle nonprofit in the country, with its growing number of participants -- 500k+ members to date, Cascade Bicycling Club was in need of a platform that scales and could help them manage their operations.
With such a huge following, it is difficult to do the handling of memberships through traditional methods. The manual entry of information was taking much of their time. Especially with clients who unsubscribed, they need to find an automated method to monitor those who resubscribed.
Opportunity
The organization uses Mailchimp for their email marketing campaigns. This helps them connect with their members, including those who unsubscribed from their services, whenever there are special announcements and events, through creating email campaigns. With Mailchimp, they are able to grow their clients and leads and increase conversions.
They are also using Salesforce as they need its Nonprofit Success Pack (NPSP). Salesforce helps them in managing their clients by focusing on services such as marketing, sales, and support.
With SyncApps, Cascade Bicycle Club is able to integrate Mailchimp to Salesforce.
Challenge
Cascade Bicycle Club needed a platform that could help them save time from manually entering opt-outs from Mailchimp to Salesforce records. Also, they require a means to reach out to clients who have unsubscribed and handle them to resubscribe in an automated fashion.
Solution
With SyncApps, Cascade Bicycle Club was able to integrate MailChimp to Salesforce. The integration helped them to sync opt-outs automatically. The integration was customized with a feature which enabled the handling of clients' records who resubscribed, clearing out the opt-out flags in Salesforce. An enhancement was also made in order for Cascade Bicycle Club to sync those who resubscribed even if what was enabled was one-way sync only.
Key Outcomes
| | |
| --- | --- |
| | Opt-outs automatically synced from Mailchimp to Salesforce. |
| | Records of unsubscribed clients were effectively managed. |
| | Once clients resubscribed, opt-out flags from Salesforce are cleared out. |
| | Resubscribes synced even if one-way sync was enabled. |
| | Saved hours from manual methods. |