MINDBODY to Intacct
Intacct's award winning software solution is a comprehensive, cloud ERP (accounting & financial management) that works seamlessly with MINDBODY for Appointment to Cash automation and the right visibility between sales and finance.
Sign Up Free
Plans Starting at $99.99/mo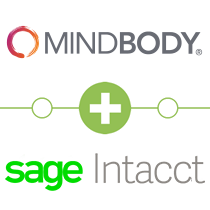 20
$99.99 /company/month
Sync Profiles
All SyncApps Available
Unlimited Number of Records
Unlimited Account Users
Sync on Demand (Anytime)
Flexible Sync Scheduling
(min, hour, day)
24/7 Support and Email
Get 2 Free Weeks!
Major Features
Customers - create and sync from MINDBODY to Intacct.
Items/Products - SyncApps Engine using name matching technology between APIs which will auto create or match Items/Products between Intacct and MINDBODY.
Invoices - Create Invoice in Intacct from MINDBODY Sale and close it with Payment.
Payments - MINDBODY to Intacct Invoice payment with the basic field mapping including payment type and amount are synced.
*Are you running a single studio or start-up? Ask us about our 50% discount today.
Get your
data
integrated today!