MINDBODY to Infusionsoft
Enabling businesses to easily connect MINDBODY directly to Infusionsoft.
Sign Up Free
Plans Starting at $99.99/mo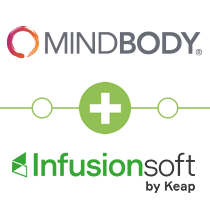 Enterprise
$
99
.99
/month/company
20 INTEGRATIONS
This plan has every feature of our Pro Plan with added real-time integration feature in scheduling.
Software Combinations
Enterprise Includes:
| | |
| --- | --- |
| | All Integrations Available |
| | Unlimited Number of Records |
| | Unlimited Account Users |
| | Sync on Demand (Anytime) |
| | Flexible Sync Scheduling (min, hour, day) |
| | 24/7 Support and Email |
| | 100+ unique customizations |
| | Custom services at our $124/hour rate to build into your SyncApps |
| | Dedicated scheduled phone support with Sales Engineer |
Get 2 Free Weeks!
Major Features
Sync MINDBODY Online customer contacts to Infusionsoft.
Custom Field Mapping between both systems.
Assign Client Indexes to MINDBODY clients to sync to Infusionsoft.
Trigger actions in Infusionsoft based on specific purchases in MINDBODY.
Kick off an Infusionsoft Campaign from MINDBODY shopping cart purchases.
Let Infusionsoft Action Sets take custom field changes from MINDBODY and create a Tags in Infusionsoft to kick off your marketing campaign series.
Segment MINDBODY clients by classes, events, appointments or purchased products. A Tag will be created in Infusionsoft for each Purchased Product Name, Classes, Events/Workshops or Appointments. (Paid Add-on Subscription $9.99/month)
Filter and Sync only those records who meet specific criteria from MINDBODY Online.
Opt-outs managed automatically in MINDBODY Online from Infusionsoft.
MINDBODY Online always takes higher precedence over Infusionsoft. Any contact changes in MINDBODY Online will always be synced to Infusionsoft.
Contact data is synced from Infusionsoft only if the email address doesn't exist in MINDBODY Online at the time of syncing.
This SyncApps can be customized based on the MINDBODY API with Cazoomi working with their Services team.
Are you running a single studio or start-up? Ask us at support@cazoomi.com about our 50% discount today.
Take a look at how businesses worldwide are solving their data integration issues with MINDBODY to Infusionsoft SyncApps!