JCurve to MailChimp
Marketing automation for your JCurve's small business edition of NetSuite sales folks and MailChimp marketing folks in under 5 minutes.
Sign Up Free
Plans Starting at $49.99/mo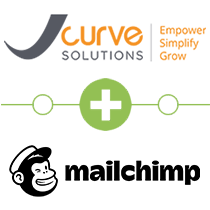 Professional
$
49
.99
/month/company
5 INTEGRATIONS
Everything for a thriving business needing unlimited data integration between their disparate systems.
Software Combinations
Professional Includes:
143 Integrations Available
Unlimited Number of Records
Unlimited Account Users
Sync on Demand (Anytime)
Sync Scheduling (6, 12 or 24 hours)
24/7 Support and Email
Get 2 Free Weeks!
Major Features
Sync NetSuite company, contacts or leads to MailChimp list.
Connect multiple NetSuite or NetSuite OneWorld instances to multiple MailChimp Accounts.
Update NetSuite if subscribers update their profiles in MailChimp. (Field mapping required)
Filter and Sync only those records who meet specific criteria from CRM.
Sync back all or only specific MailChimp Campaign Responses, including links clicked, to NetSuite custom records automatically.
Contact Rating synced back to NetSuite.
Trigger MailChimp Autoresponders from NetSuite field or field status updates.
Opt-outs managed automatically in NetSuite from MailChimp.
Map Email Out-Out to a custom Opt-Out field from MailChimp to NetSuite.
Sync and map hard bounces to CRM custom field.
Custom field mapping between both systems.
NetSuite supported Saved Search record types: Contact, Customer, Partner, Transaction. Saved search(s) synced to MailChimp Group(s) or Static Segments.
NetSuite always takes higher precedence over MailChimp. Any contact changes in NetSuite will always be synced to MailChimp.
Contact and lead data is synced from MailChimp only if the email address doesn't exist in NetSuite at the time of syncing.
*MailChimp Subscribe App ready
Enterprise
$
99
.99
/month/company
20 INTEGRATIONS
This plan has every feature of our Pro Plan with added real-time integration feature in scheduling.
Software Combinations
Enterprise Includes:
| | |
| --- | --- |
| | All Integrations Available |
| | Unlimited Number of Records |
| | Unlimited Account Users |
| | Sync on Demand (Anytime) |
| | Flexible Sync Scheduling (min, hour, day) |
| | 24/7 Support and Email |
| | 100+ unique customizations |
| | Custom services at our $124/hour rate to build into your SyncApps |
| | Dedicated scheduled phone support with Sales Engineer (5 hours/year) |
Get 2 Free Weeks!
Major Features
Sync NetSuite company, contacts or leads to MailChimp list.
Connect multiple NetSuite or NetSuite OneWorld instances to multiple MailChimp Accounts.
Update NetSuite if subscribers update their profiles in MailChimp. (Field mapping required)
Filter and Sync only those records who meet specific criteria from CRM.
Sync back all or only specific MailChimp Campaign Responses, including links clicked, to NetSuite custom records automatically.
Contact Rating synced back to NetSuite.
Trigger MailChimp Autoresponders from NetSuite field or field status updates.
Opt-outs managed automatically in NetSuite from MailChimp.
Map Email Out-Out to a custom Opt-Out field from MailChimp to NetSuite.
Sync and map hard bounces to CRM custom field.
Custom field mapping between both systems.
NetSuite supported Saved Search record types: Contact, Customer, Partner, Transaction. Saved search(s) synced to MailChimp Group(s) or Static Segments.
NetSuite always takes higher precedence over MailChimp. Any contact changes in NetSuite will always be synced to MailChimp.
Contact and lead data is synced from MailChimp only if the email address doesn't exist in NetSuite at the time of syncing.
*MailChimp Subscribe App ready